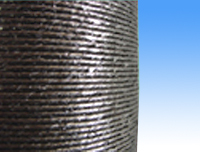 Увеличить картинку
Информация о производителе
Компания:
Weifang Hualong Industry Co., Ltd.
Адрес:


Northwest Corner of Beihai Road and Fenghuang Street Cross, Fangzi, Weifang, Shandong, China (Mainland)
Телефон:


+86-536-2257092 +/ +2283066
.
CPS continuous research and development of various types of yarns made from pure expanded flexible mineral graphite materials is now fully committed to the supply of a proprietary series of yarn for all mechanical gland packing manufacturers.Specifications available: 2g/m, 3g/m, 5g/m and 10g/mStandard package: 5 pounds/roll or 2.5kg/rollExpanded flexible mineral graphite as basic material is mixed with natural fiber, glass fiber, synthetic fiber, metal alloy wire (respectively) and proper binding agent, then through specially designed technological process. The braided packing made of these flexible graphite yarns reinforced by different kinds of fibers and metal alloy wires, are suitable for sealing under different media, circumstances, temperature and pressure. Furthermore, for using these products under severely corrosive circumstances upon the demands of customers, inhibitors of corrosion can be added into the graphite yarn for making the properties of the graphite sealing parts more perfect.
| | |
| --- | --- |
| 336x280 banner | 336x280 banner |