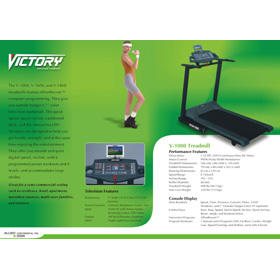 Увеличить картинку
Информация о производителе
Компания:
ALLIED CONTINENTAL INC.
Адрес:


10F-2, NO.61, KUNG-YI RD., SEC.2,TAICHUNG CITY, TAIWAN,R. O. C.
Телефон:


+886-4-23295202
.
-Victory series- Boredom kills treadmills? Not at all! It never happens to our designed treadmills. 1. 6 Preset programs and simple entry numeric keypad. 2. A large LED console constant feedback. 7 outside hanger color TV (Optional). 3. Easy to be folded and moved, 4 moving wheels, steady and safety. 4. Motorized incline range and quick keys for speed and incline. 5. Unsurpassed durability, excellent motivation and good, comfortable feelings for treadmills. Specifications 1.Motor G1.25HP-2.0HP / Optional, 220V DC Continuous Duty Motor. 2.Speed Range G1.0 K.M./hr~16 K.M./hr. 3.Motorized incline range G 00 ~150. 4.Dimensions G65 LX32 WX52 H. 5.Folded Size G27 LX32 WX58 H. 6.Running Area G48 LX18 W. 7.Treadmill Weight G94.5Kg. 8.User Max Weight G113.0Kg. Features 1.Cushion Pads to minimize foot impact/shock. 2.6 Preset Programs Performance. 3.LED Windows included GSpeed/ Incline/ Calories Burned/ Distance/ Elapse/ Pulse. 4.Speed and Incline quick Keys and 7 outside hanger color TV (Optional). 5.Country of origin GTaiwan or China. Television Features 1.Dimension G7 wide (16:9 ) color TFT-LED Monitor. 2.Picture Controls GContrast, Brightness, Color and Tint. 3.Input GFront AV with Stereo Audio, Reversing Video, and GPS Video. 4.Output GI/R Series Remote, Earphone. 5.Other GNight-Light Function Knob.
| | |
| --- | --- |
| 336x280 banner | 336x280 banner |