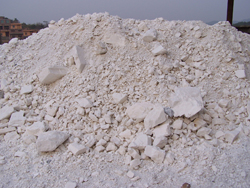 Увеличить картинку
Информация о производителе
Компания:
Zhejiang Mineral Co., Ltd.
Адрес:


Sanli Industry Zone, Ningbo Zhejiang, Ningbo, Zhejiang, China (Mainland)
Телефон:


+86--13967886616
.
We are the professional supplier which produce barite powder, barite lump. Our company have own mines, more than 20 mines in Xiangzhou area Guangxi province. Meantime, our company have two barite powder factory.Our company established in 1989, located in developed city Liuzhou Guangxi China and have 500 employees. Our barite with high whiteness, specific gravity max. Reach 4. 37, BaSO4 max. Reach 96. 5% . Every year, export capacity reach 900, 000 MT of barite ore. We export barite powder 10, 000 MT per month.We mainly export barite to America, Germany, Japan etc. markets.Barites powder Specification:Specific Gravity: 4. 3 minimumBaSO4: 94% minimumSrSO4: 0. 7% maximumCaSO4: 0. 6% maximumSiO2: 1. 5% maximumMoisture: 1. 0% maximumLump Size: Residue of diameter greater than 75umGrain content that less than 6um (equivalent diameter)Residue of diameter greater than 45um >=5. 0With high whiteness.Please feel free contact me directly at any time if you interested in our products, I am happy to service you and sent samples for your evaluation.
| | |
| --- | --- |
| 336x280 banner | 336x280 banner |