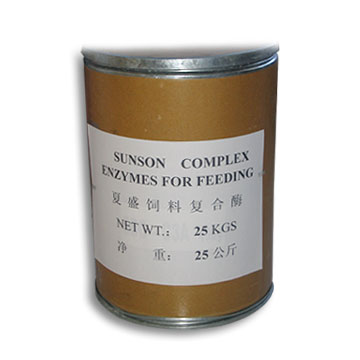 Увеличить картинку
Информация о производителе
Компания:
Sunson Industry Group Co., Ltd.
Адрес:


No. 155 & 157, Qingfeng Street, Jinfeng, Yinchuan, Ningxia, China (Mainland) Zip: 750002
Телефон:


+86-10-84859207 +84857903
.
Complex enzymes (feed grade) is designed according to the characteristicsof livestock and poultrys digestive system and the nutrition of theirfeedstuff through biological tests. All of its components are made fromexcellent strains through liquid deep fermentation and extraction technique.The functions of complex enzymes are as follows:1) It can destroy the cell wall of plants, so as to release the cellcontent adequately and improve the utilization rate of feedstuff;2) It can eliminate the anti-trophic factor in feedstuff and reduce theviscosity of chymus in livestock and poultrys digestive tract bycooperation of components, so as to improve livestock and poultrysabsorption of nutrition in feedstuff and increase the digestive rateof feedstuff;3) It can supplement the endogenic enzymes of livestock and poultry(especially of pup and poult) to improve their ability of anti-virus(or anti-stress), accelerate livestock and poultrys growth orincrease egg production rate;4) It can increase the energy efficiency of feedstuff so as to decreasecost;5) It can decrease the content of N in livestock and poultrys dejectato improve their living environment and avoid epidemic disease.Specifications/ physical and chemical properties:1) Appearance: powder2) Color: yellowish or hazel3) Odor: slight fermentation odorMain components and enzymatic activity (u/g):1) Cellulase (in CMCase): ≥50,0002) Xylanase: ≥500,0003) β-Glucanase: ≥1,300,0004) Amylase (in Glucoamylase): ≥4,0005) Acid Protease: ≥4,0006) Combing components: pectase, mannase, lipase etc.Definition of unit1) 1 unit of CMCase equals to the amount of enzyme, which hydrolyzesCMC-Na to get 1 μg of reducing sugar (in glucose) in 1 min. at50oC and pH4.8;2) 1 unit ofβ-Glucanase equals to the amount of enzyme, which hydrolyzesβ-glucosan to get 1 μg of reducing sugar (in glucose) in 1 min. at50oC and pH5.0;3) 1 unit of Xylanase equals to the amount of enzyme, which hydrolyzesxylan to get 1 μg of reducing sugar (in xylose) in 1 min. at50oC and pH5.0;4) 1 unit of Glucoamylase equals to the amount of enzyme which hydrolyzessoluble starch to get 1mg glucose at 40oC and pH4.6 in 1h;5) 1 unit of Acid Protease equals to the amount of enzyme, whichhydrolyzes casein to get 1 mg of tyrosine in 1 min. at 40oCand pH3.0.This product is applicable for livestock and poultrys feedstuff. Itshould be mixed round with feedstuff enough. Suggest to mix this productwith a small quantity of feedstuff firstly, then mix with large quantityof feedstuff for direct feeding.Storage: should be stored in a cool and dry place in sealed containerShelf life: 12 months in cool and dry place. 24 months in dry placeat 5--15oCDosage: 0.1-0.2kg per ton of feedstuffPacking: 25kg/drumSafety:Enzyme preparations belong to protein, which may induce sensitizationand cause allergic type reactions in sensitized individuals. Prolongedcontact may cause minor irritation for skin, eyes or mucous membrane ofnose, so any direct contiguity with human body should be avoided. Ifirritation or allergic response for skin or eyes develops, consult a doctor.
| | |
| --- | --- |
| 336x280 banner | 336x280 banner |