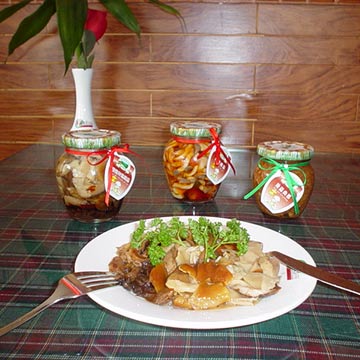 Увеличить картинку
Информация о производителе
Компания:
Dalian J&N Foods Co., Ltd.
Адрес:


Xiajiahezi Village, Gezhenpu Town, Ganjingzi District, Dalian, Liaoning, China (Mainland) Zip: 116000
Телефон:


+86-411-82691122 +82654518
.
Product Name: Italian or Russian Flavored Mushrooms AssortmentPlace of Origin: ChinaWe can supply jar packed or tin packed special flavored mushrooms. The raw mushroomsare flavored from a selection of fine ingredients in the direction of professionalchef. The flavored can be also adjusted according to the customers taste.We can supply almost all kinds of mushrooms in this assortment, including Nameko,Shiitake, Boletus Edulis, Suillus Granulatus, Pleurotus Ostreatus, Champignon,as well as Mixed Assorti. The package also varies, including jar 270ml/314ml/580ml/720ml/880mland tin 425ml/850ml/3000ml.
| | |
| --- | --- |
| 336x280 banner | 336x280 banner |