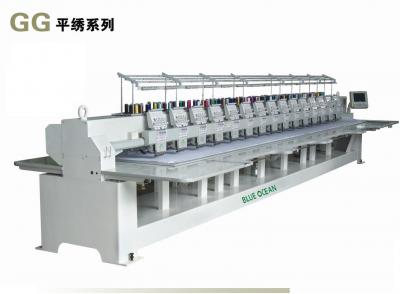 Zoom in
Producer information
Company:
Baolingdeng Industry & Trade Co., Ltd.
Address:


No. 88 Donghai Road, Taizhou Economic Development Zone, Taizhou City, Zhejiang Province. China
Phone:


+86-576-88209979 +mob:86-13968602068
Flat embroidery machine, Computer embroidery machine
Place of origin: China. Port: Ningbo,Shanghai and any other port in China. Payment Terms: L/C,T/T. Brand Name: BLUE OCEAN. GG Flat embroidery machine series. Head No.: 1,2,4,6,8,10,12,15,18,20. Color No.: 6,9,12. Embroidery area: (300-400) X (680-1200). Chenille combine embroidery machine series available. Chenille embroidery machine series available. Coiling embroidery machine series available. Cap embroidery machine series available. Sequin embroidery machine series available. Tuftstitch embroidery machine series available. Single head embroidery machine series available. Sequin punching machine series available. Ultrasonic Hot-Fix setting machine series available. Function. Design storge capacity. The memory can store 99 designs and the total stitch count is over 1,000,000 stitches. Darning function. Due to thread broken during embroidery, some embroidery fail to work and the needle should return to the place where embroidery fail and begin darning. The number of returnable stitches is not limited and it can return to the original point of present normal design in embroidery combined design. The rotation and pantograph of design. During embroidering, a design can be magnified or minified any rate in X direction and Y direction respectively. Choosing one of 8 directions ( up, down, left, light, positive and negative) and inputting the rotaring angle range from 0 to 360 degrees can make the design or the mirror design rotate in unit 1 with 360 degrees. Display of designing memory: It is very useful to display the pattern while selecting pattern for embroidery and output. Auto-trimmer function. Daring the operating, it have auto-trimmer function. Editing design: The design in memory can be edited or revised with ease. Border embroidery. Can automatically embroider the border and enter of the selected design. Stored 99 designs. Very convenient for using. According to customer`s different requirements we can make embroidery machines with different specifications.
Add to Basket
Web address